The idea for Blackhawk was started in 1990 by a former Navy SEAL. Since then, the company has taken off, providing tactical vests and rigs, holsters, bags, packs, and a slew of other goodies for people who need such items- including the "Enhanced Commando Recon" Blackhawk chest rig I'm going to describe for you here.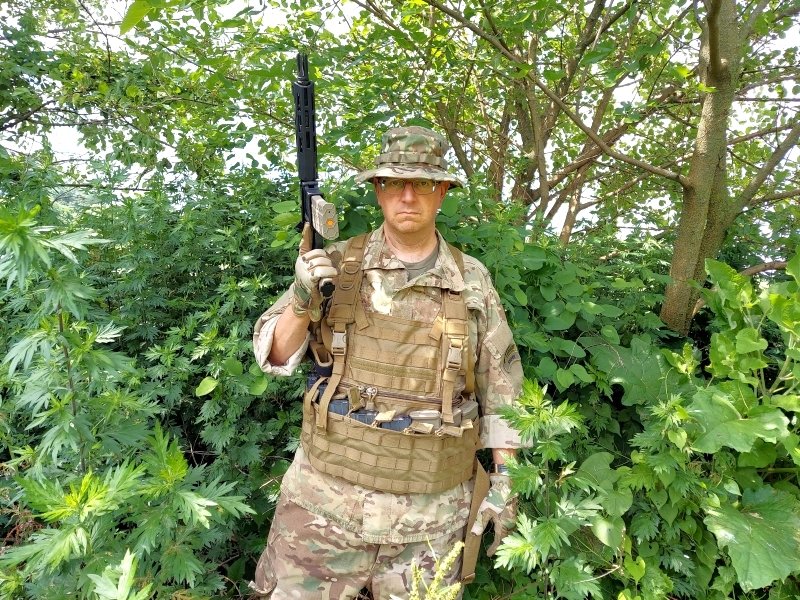 The Blackhawk rig in its natural element.
In this article I'm reviewing the Enhanced Commando Recon Chest Harness. It's a nice, simple rig and yet has a number of features that are attractive. Let's take a look.
Note: the color of this rig appears close to Flat Dark Earth (FDE) to me, but given inconsistencies in how some companies produce gear in that colorway your eyeballs may see something different.
A Well Made Rig
The entire rig is comprised of heavy-duty nylon, so it will last a very long time. All of the stitching is heavy and there are lots of extra reinforcement points with extra stitching to make sure nothing comes loose. I've used this rig for a couple of years now and have to experience any issues with it. Given its heavy construction, I expect a good many more years of faithful service from it.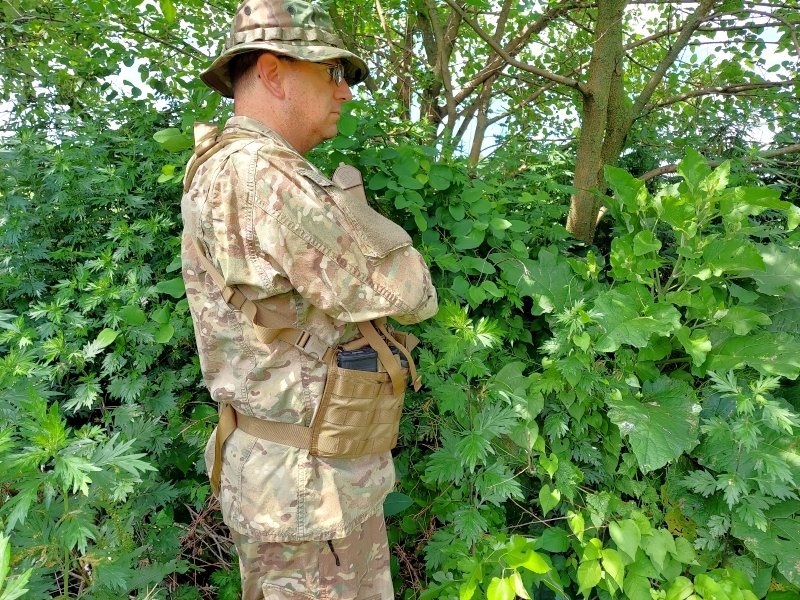 Commando Recon harness shown from the right side.
The main mission of any non-chest chest rig is to carry ammunition. This one will carry eight 30-round magazines for 5.56mm weapons (it's mainly built for the M-16/M4 platform), which is a pretty healthy load-out for most engagements. To secure the magazines in the pockets (which are open-top), there are elastic bungee cords with nylon tabs to make them easy to pull to the side.
The bungees keep the magazines in place well. The eight magazines are arranged in a row across the front of the rig, so they're easy to access. I've used aluminum magazines and polymer magazines, and all work perfectly in this rig. It seems the aluminum magazines are slightly easier to pull out, as they create less friction than the polymer magazines. Still, they all work very well.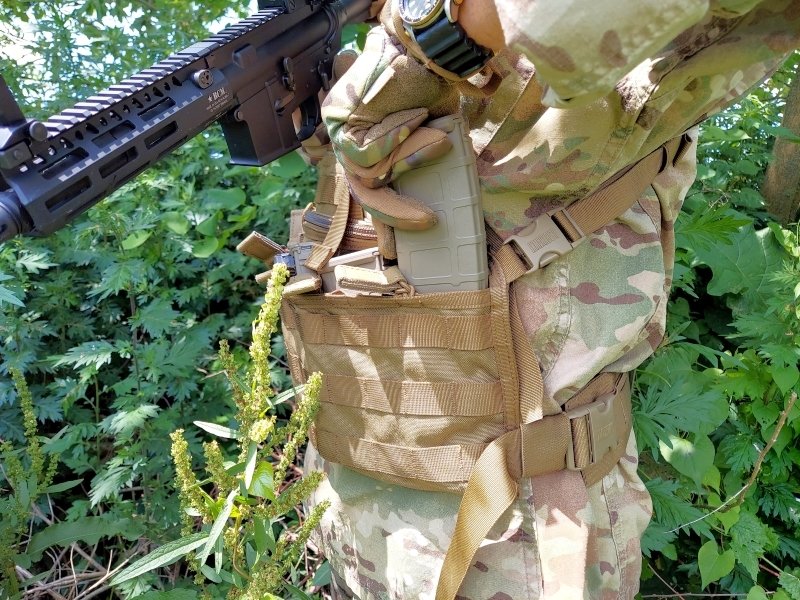 The Recon Commando rig will hold eight magazines in the pouches along the front of the carrier.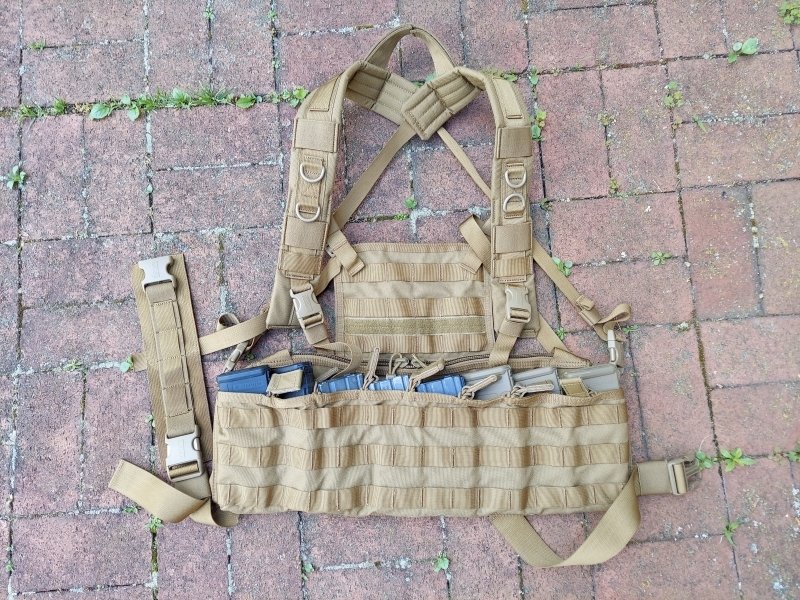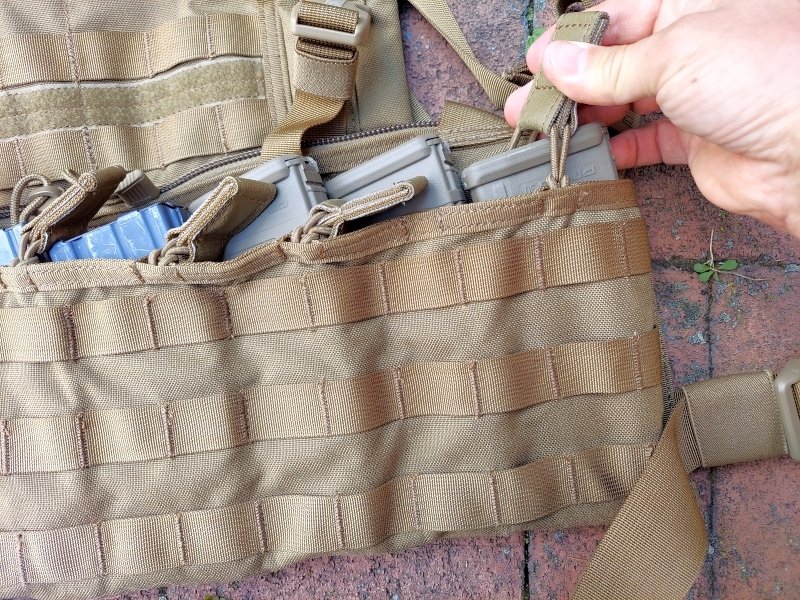 Bungee cords, complete with nylon tabs, make sure the magazines stay in place.
On the bottom of the magazine carrier portion of the rig are a few holes with hard rings around them to act as drainage holes should the carrier become immersed in water or a heavy downpour.
So much room for activities!
Outside of the magazine pouch area are rows of PALS attachments so you can customize this rig to your heart's content. Overall, there is a lot of room for adding additional pouches.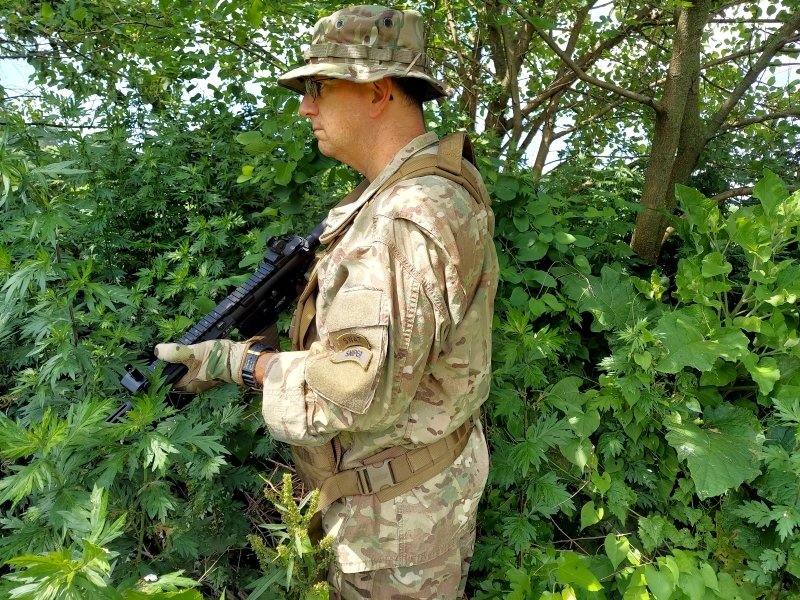 The harness wears comfortably. It distributes weight well and the shoulder straps are padded, as is the waist belt.
There are two shoulder straps, with one going over each shoulder, crossing diagonally across the back, and connecting to the cummerbund via quick-release buckles. There is also a belt that secures at the waist - it goes around the back and attaches at waist level, again using quick-release buckles.
I like the fact that the buckles release so easily in the event the rig needs to be ditched quickly. Of course, the straps are all fully adjustable.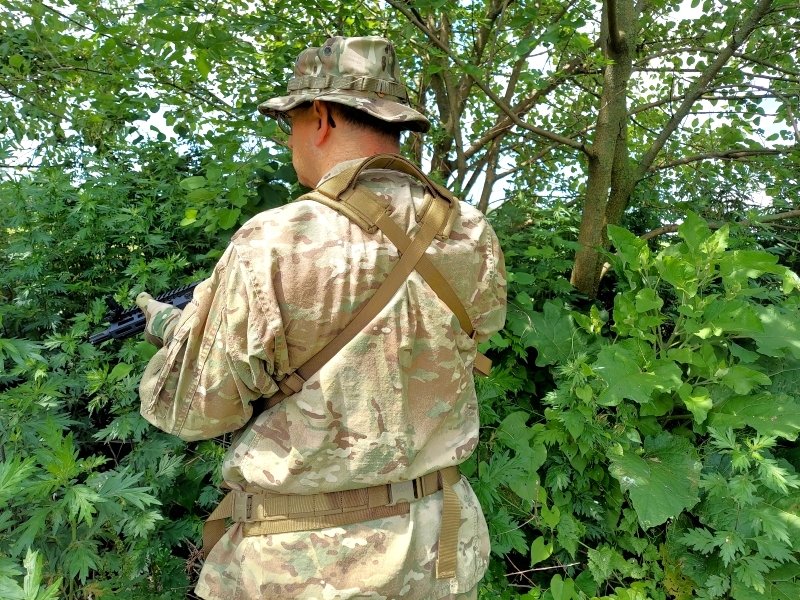 The straps cross the back, making the harness very secure.
Between the two shoulder straps, there is a drag handle that fits directly behind the wearer's neck, and it's adjustable via hook and loop material. This handle also serves to keep the shoulder straps in line and squared away. Aside from that, the handle makes it convenient to tote the rig around when not wearing it.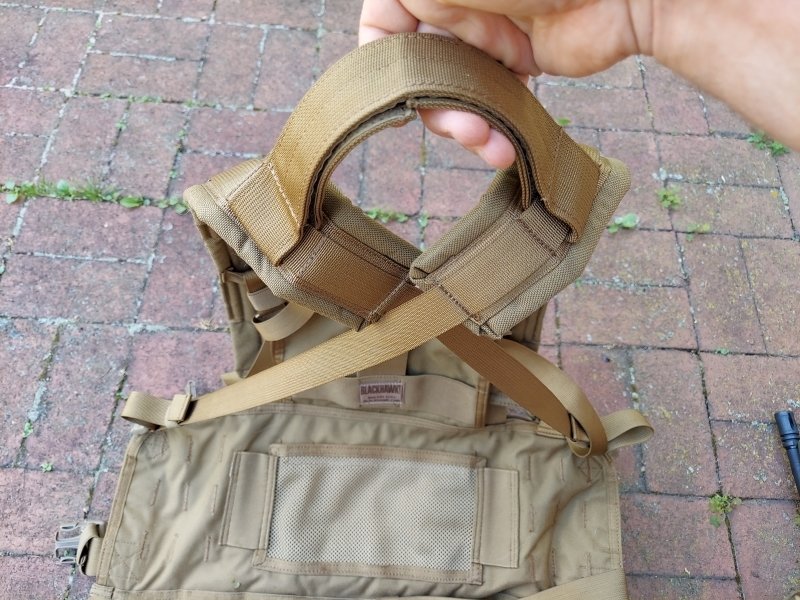 The drag handle is sturdy but adjustable with hook and loop material. It keeps the shoulder straps in line.
Just above the row of magazines is a long, heavy zipper. Unzipping that zipper reveals a long pouch that is housed just behind the row of magazines. Inside this compartment, there are rows of PALS attachments for securing various gear.
I imagine you could secure a magazine or two in here, spare ammo, or maybe some maps, energy bars, or other small items. The size of the compartment is generous.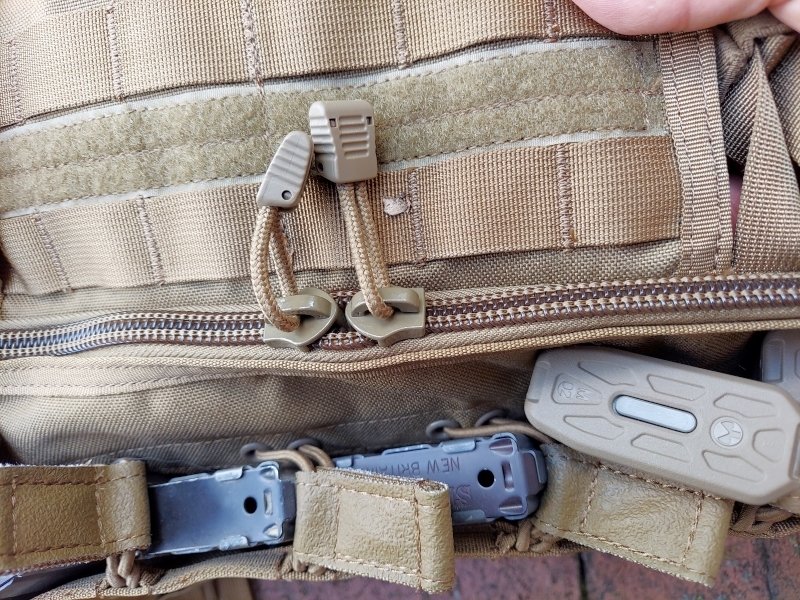 The zipper for the compartment behind the magazines is heavy-duty and durable.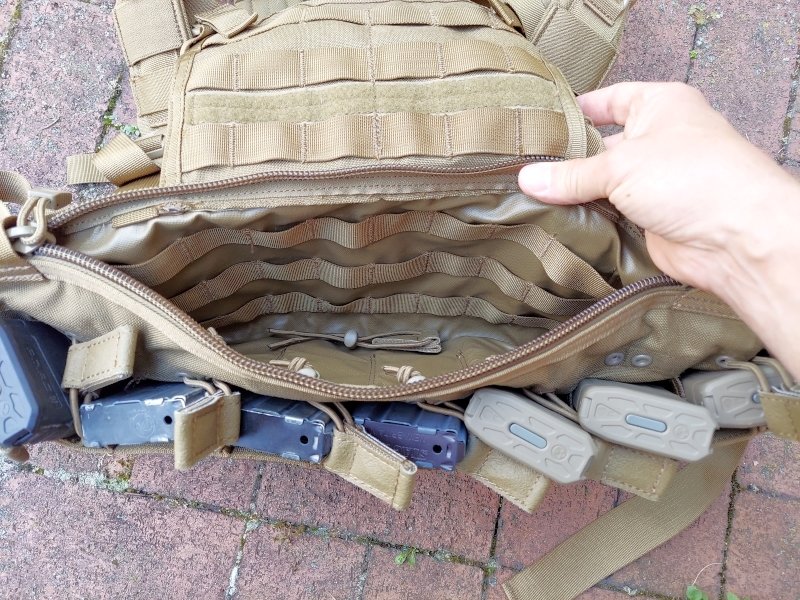 The compartment is also roomy, providing more storage space for various items. There are PALS attachments for keeping extra gear secured inside.
On the front of the chest portion that covers the upper chest of the wearer are more rows of PALS webbing for more ability to attach pouches for various gear. Several pouches could easily be attached here, adding to the versatility of this piece of gear. Typically, I'll attach a pouch for a flashlight and also a dump pouch, although I don't normally hang too much stuff off the rig. I usually adhere to the KISS Principle (Keep It Simple, Stupid).
Additionally, there is a piece of fabric that the hook and loop can be attached to, which would accommodate small morale patches and such. Because when we're doing cool things, it's paramount to also look cool while doing it.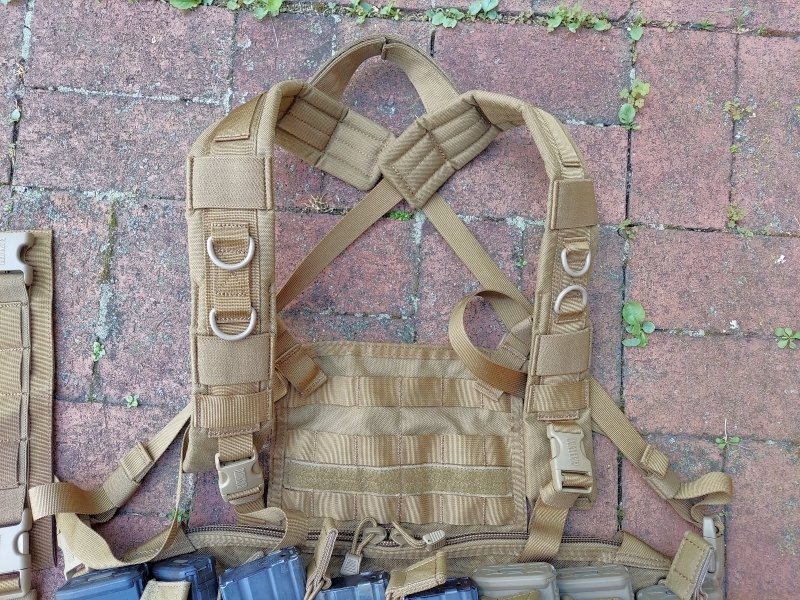 The upper chest portion is covered with PALS attachment points too. Along with material to attach morale patches. Note the buckles for attaching items to the shoulder straps. The straps are also padded, which enhances comfort
Inside the waist and chest portions of the rig are pouches that will accommodate a ballistic plate (size 10.5" x 13.25"). The bottom portion is a nylon mesh. Since it's not carrying a ballistic plate, it could be used to carry other small items such as paperwork. The plate would fit into a "T" that is formed by two pieces of heavy nylon. Currently, I do not have a ballistic plate for my carrier, so I just use it to carry magazines for my carbine.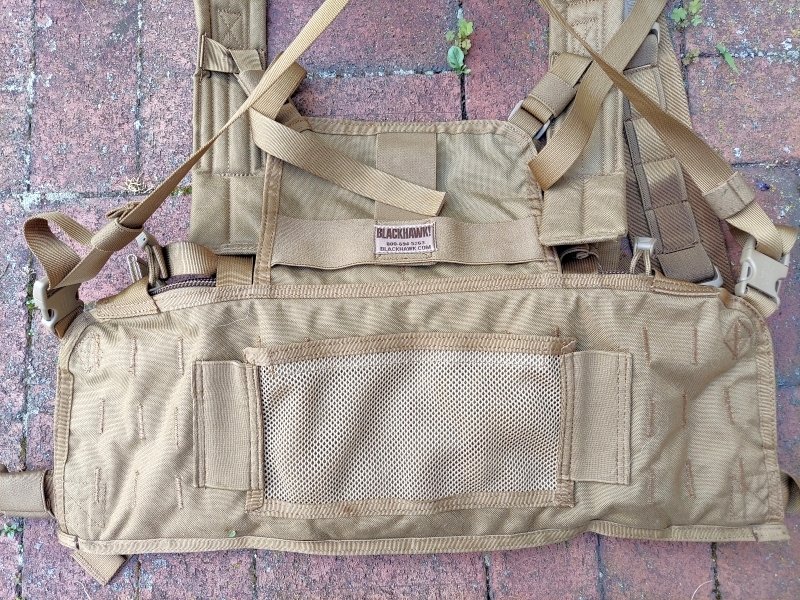 The rear of the rig reveals the implements to attach a plate if the wearer wishes, with the base of the plate fitting inside the mesh carrier. The mesh portion will also carry other items.
Although this rig is relatively simple, I wouldn't necessarily classify it as a "minimalist" rig because it has quite a few features and carries eight magazines. It's well put together and will last for a long time. The FDE color blends into just about any environment that you will ever operate in. It goes on and off within seconds, which is a big plus, and given the low price point is probably worth you purchasing one to have on standby for contingencies.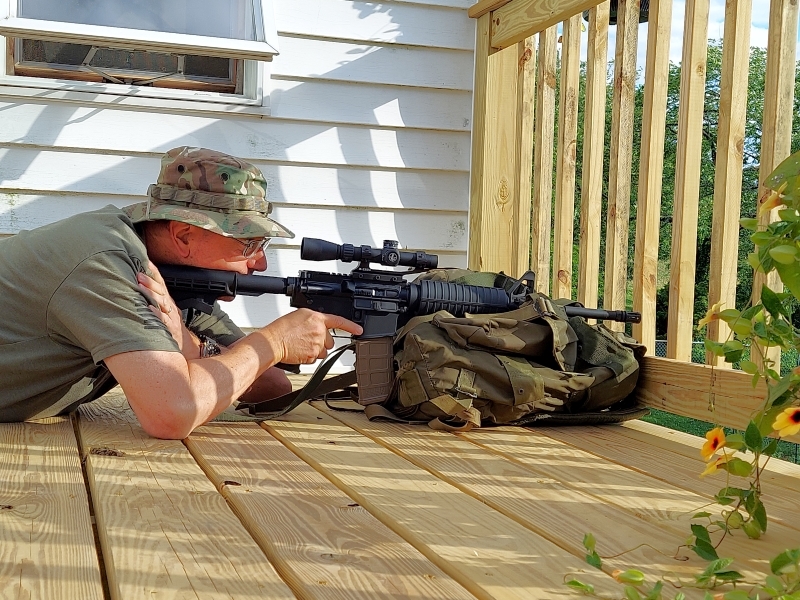 About the Author:
Jim Davis served in the PA Dept. of Corrections for 16 ½ years as a corrections officer in the State Correctional Institute at Graterford and later at SCI Phoenix. He served on the Corrections Emergency Response Team (CERT), several of those years as a sniper, and also the Fire Emergency Response Team (FERT). For 25 years, he was a professional instructor, teaching topics including Defensive Tactics, Riot Control and Tactical Operations, Immediate Responder, and cognitive programs as an adjunct instructor at the DOC Training Academy. He was then promoted to the title of corrections counselor, where he ran a caseload and facilitated cognitive therapy classes to inmates. His total service time was close to 29 years. He was involved in many violent encounters on duty, including incidents of fatalities. He writes and consults for a number of sites and publications, including GunMag Warehouse's The Mag Life.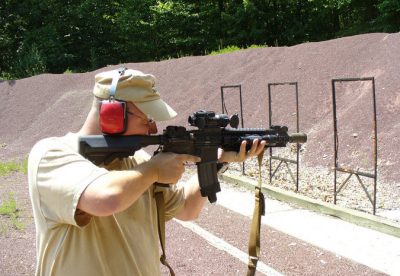 Recent Posts
If you hear the words "9x18mm" and immediately assume the speaker misspoke and meant 9x19mm Parabel …

ALCON: Global Military Products, Inc., a subsidiary of Global Ordnance, LLC, will be …

With more than 60 videos about Grand Power, and after running multiple models through various trai …