The folks at Maxpedition have been turning out tactical gear for many years now. Today we'll look at one of their iconic offerings, the Maxpedition Fatboy Versipack.
These days, we often have a lot of crap to haul around, whether we might find ourselves on our way to work, out shopping, or on a day trip outing where we carry along extra items. If the above is the case, Maxpedition has a nylon Man-Purse ("Murse") for you!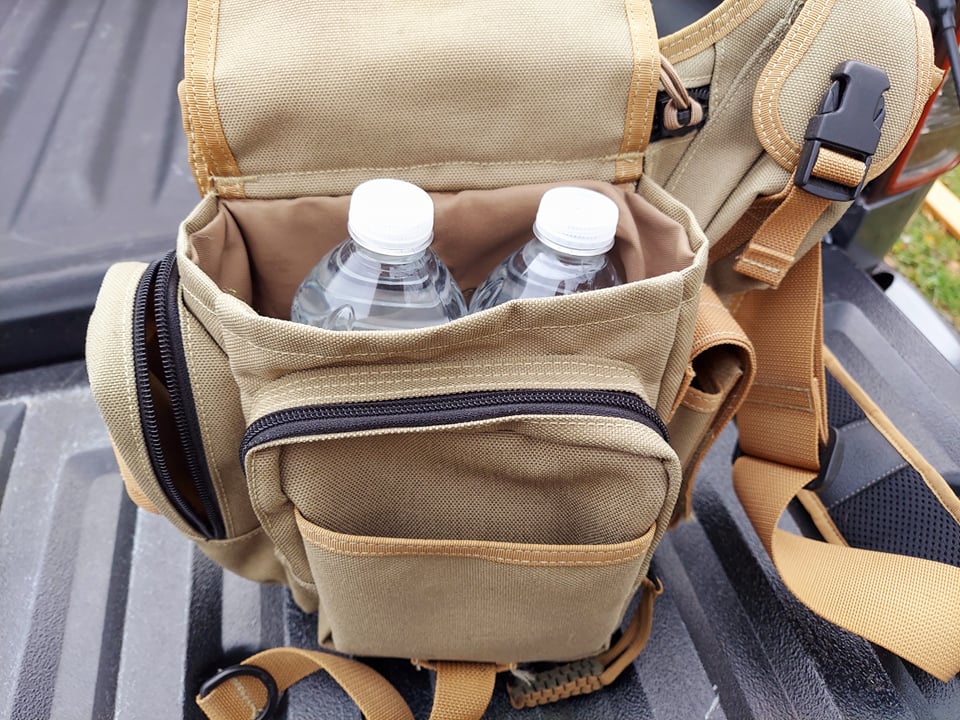 The main compartment carries a couple of water bottles well and keeps them cool for a while.|
I got my Maxpedition Fatboy Versipack years ago, around 2007 or slightly before. I cannot even begin to count how many times I've used it and found it to be invaluable in hauling my stuff around. It's sized just right for my needs, not too large, not too small. Whether I'm using it as an EDC bag to haul the essential range gear to go do a little training.
The dimensions are as follows: Overall size: 14 inches long by 6 inches wide by 14 inches tall. The main compartment is 6.5 inches long by 3 inches wide by 8 inches tall. The whole piece weighs 1.3 pounds.
Those dimensions are for the main pouch, but several exterior pouches also come into play, making this piece of gear a real treat to use.
One thing that strikes me with Maxpedition's gear is how thick the nylon is. It's not flimsy but rather thick, and I can assure you that it holds up great over the decades of use. For durability, the material really shines; I've used my bag a ton, and it is still in seriously nice condition. No fraying.
Aside from those dimensions, the Maxpedition Fatboy Versipack has a seemingly never-ending supply of pouches and pockets, all the better to hide your gadgets.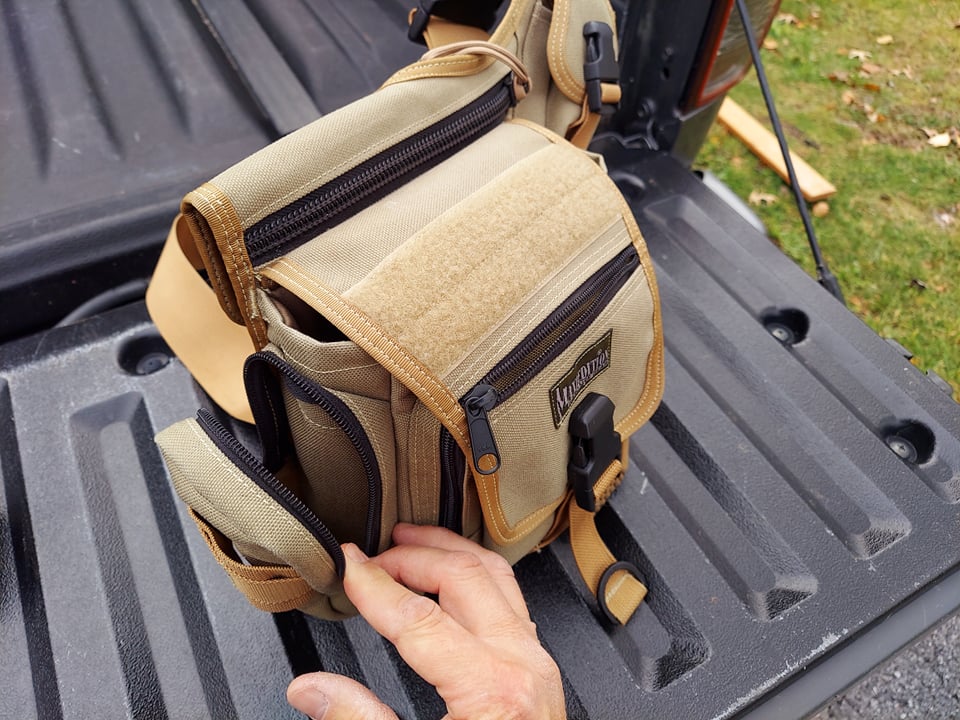 Yet another pouch!
There is a zipper just above the buckle on the top flap that closes to cover the main pouch, which secures a small pocket in the flap. It's a great place to put spare change, a lighter, matches, or other small items.
The main compartment has a built-in storm collar that cinches shut with a paracord pull so that you can protect the items you're carrying. If you're securing the main compartment, a strap attaches with plastic buckles that works effectively and is adjustable. So, you can make it longer if the load you're carrying is larger or reduce it if it's smaller.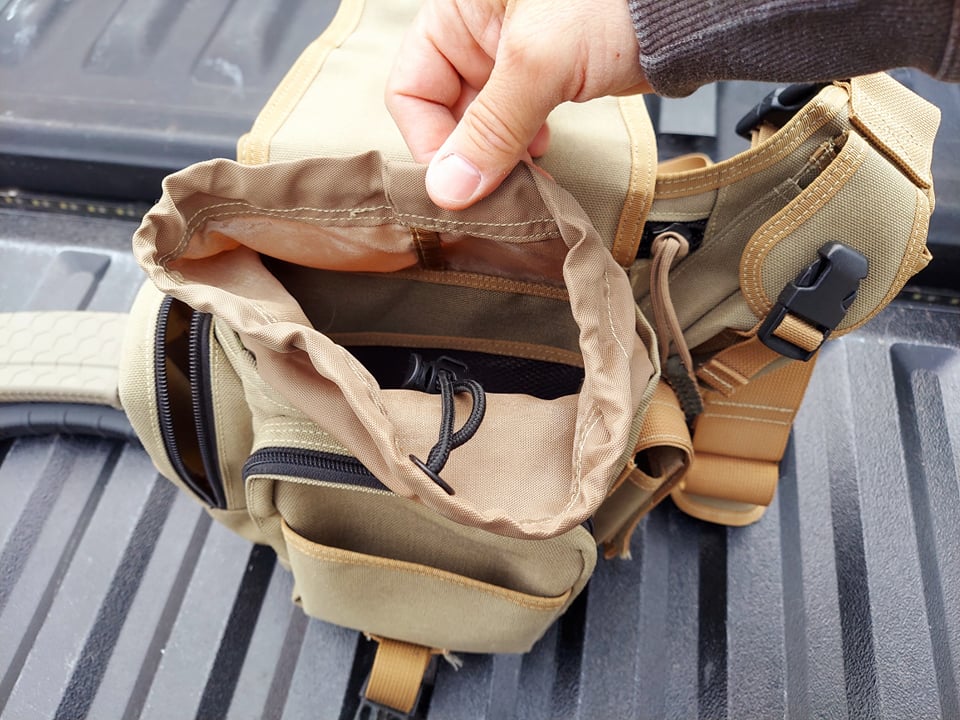 A storm flap can be cinched shut to keep the main compartment dry.
Inside the main compartment in the front and back, there are two mesh pockets that can secure multiple items.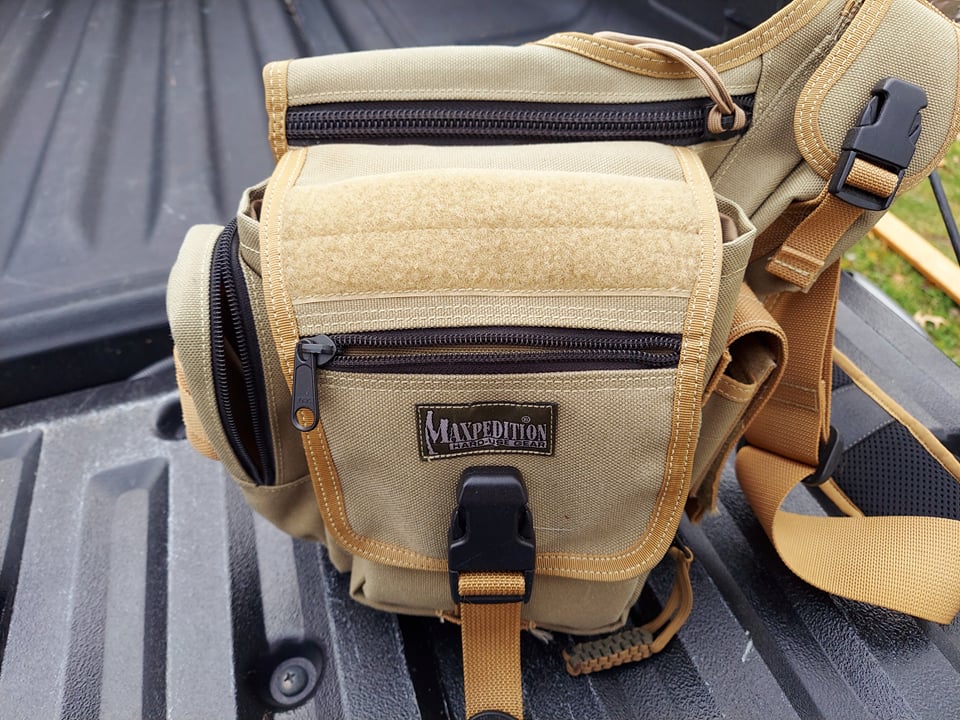 A view from the front. The plastic buckles work well and keep things secure.
On the outside, just above the main compartment, there is a zippered compartment that runs from the top all the way down to the bottom of the pack. On the back of it inside is the material that hook and loop material can be attached. This pocket is great for storing anything from papers such as maps to a firearm or other items. This is quite a large pocket.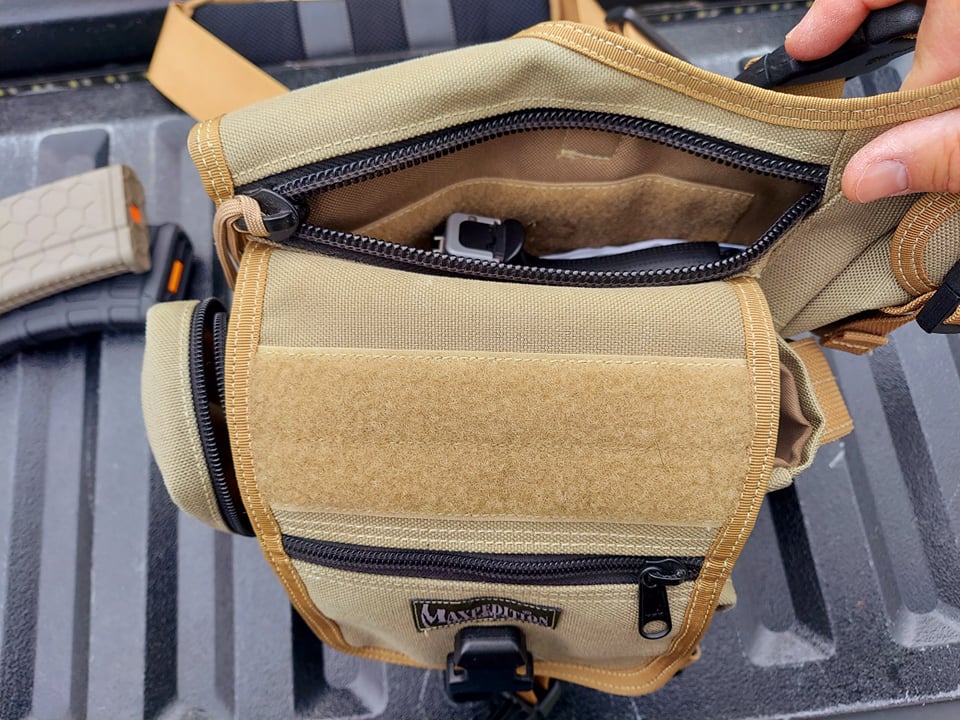 The zippered compartment behind the main one easily carries a Glock 43X with plenty of room to spare. It's also great for papers
Above the main compartment and that zipper above it is a patch of material that morale patches and such can be attached. So you know if the user needs to have his ego boosted or if they wish to advertise various products via patches.
On the front of the main compartment is another pouch that secures with a zipper, and this one is relatively sizeable. Inside of it is a divider to secure even more items (a pouch within a pouch). Finally, on the outside of this setup, there is yet another pouch!
Looking at the bag from the front, there is another pouch on the left side, which is also secured with a zipper. On the outside of this pouch are loops that can be used to secure items with the PALS system or other attaching systems. For example, this pouch could hold a large cell phone or other things.
Moving upward, a pouch is located at the base of the shoulder strap, which could carry a small cell phone or other trinkets. Attached to it are two nylon loops that are useful for carrying pens.
On the opposite base of the should strap, a sturdy metal clip is located that is useful for clipping keys.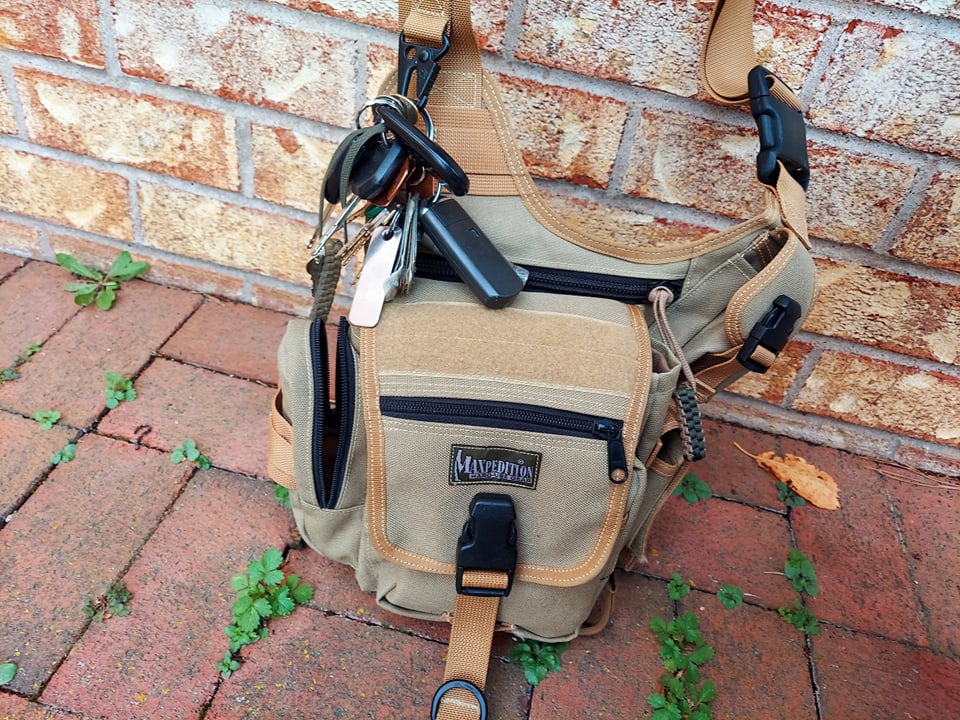 The shoulder strap is noteworthy because it is of very sturdy construction and is very adjustable for a wide range of lengths. Also on the shoulder strap is a padded section that attaches to the strap with a few sections of nylon and hook and loop fasteners so that it can slide freely. This is a nice feature when you're wearing the bag and you're in motion because the shoulder strap can slide through the pad. In contrast, the pad remains stationary on your shoulder, comfortably anchored to you. As a result, you can adjust the bag to different positions, yet the pad stays put on your shoulder, which is fantastic.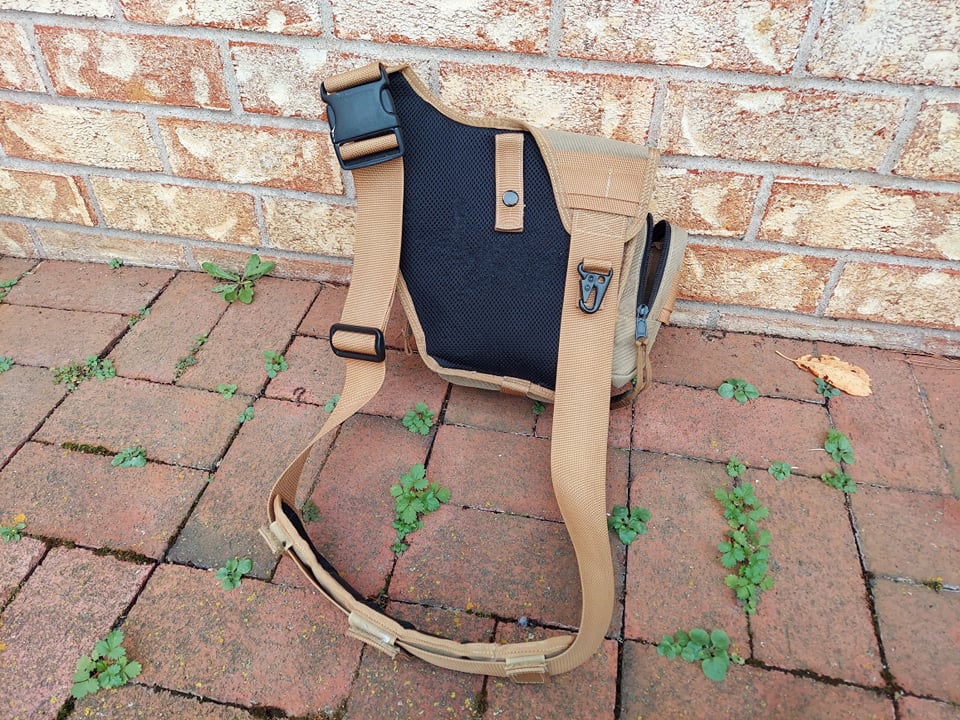 The back of the bag is covered in padding for comfort. Note the very adjustable shoulder strap.
If you want the bag to be more stationary on your waist, there is a nylon strap that is secured by a snap that your belt can go through.
All in all, this piece of gear is ridiculously versatile!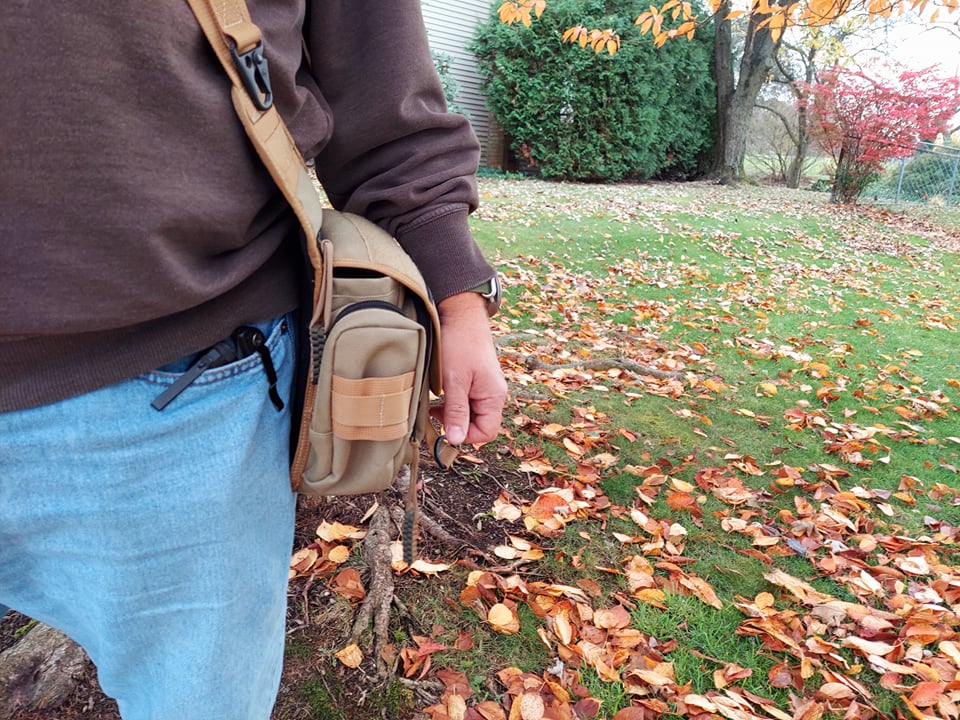 The bag carries comfortably and does not get in the way
I've used this Fatboy so many times, for so many different occasions, I can't even begin to count them! For example, when I go hiking, I often throw a couple of water bottles in the main compartment. While it's not technically insulated, it will keep water cold for a good while.
I'll often carry a flashlight in the outside pouch or else a spare pistol magazine. Sometimes a multi-tool goes in the other small pouch on the opposite side. A handgun will fit inside the main compartment or even in the zippered portion just behind the main compartment. Granted, the Maxpedition Fatboy Versipack will not really give you a lightning-fast speed draw. Still, sometimes it's nice to be able to tote a handgun in it. The myriad of other pockets inside will accommodate a host of knives and other kit.

The side pouch is adjustable and is great for pistol mags.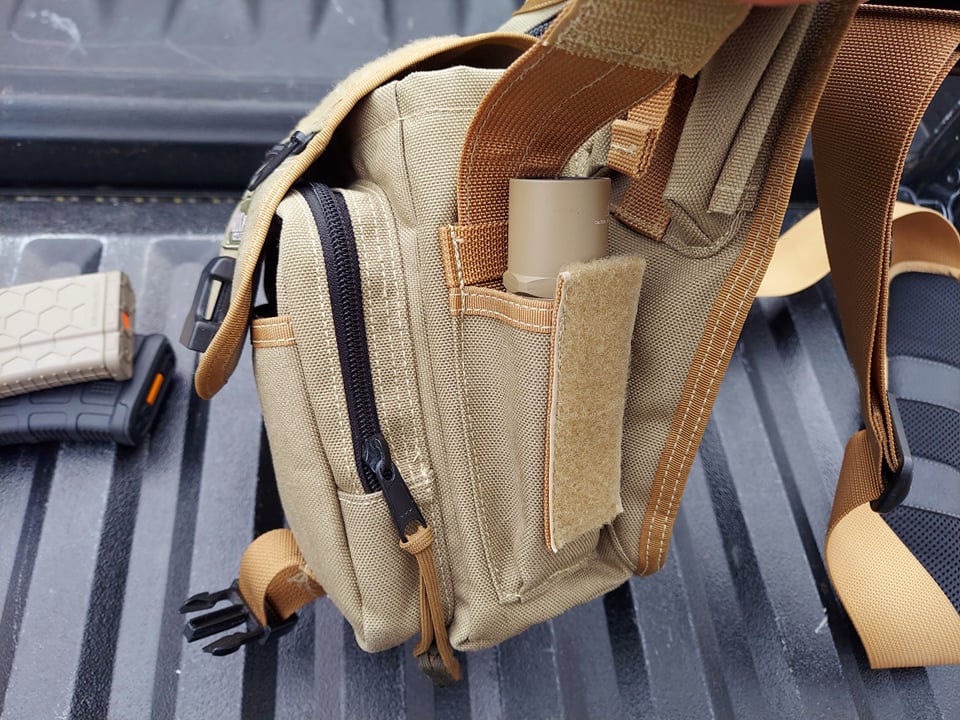 Or flashlights!
Several rifle magazines will also fit into the main compartment in the event you want to use it as an ammo bag. One can easily fit three or four AR or AK mags inside the main compartment.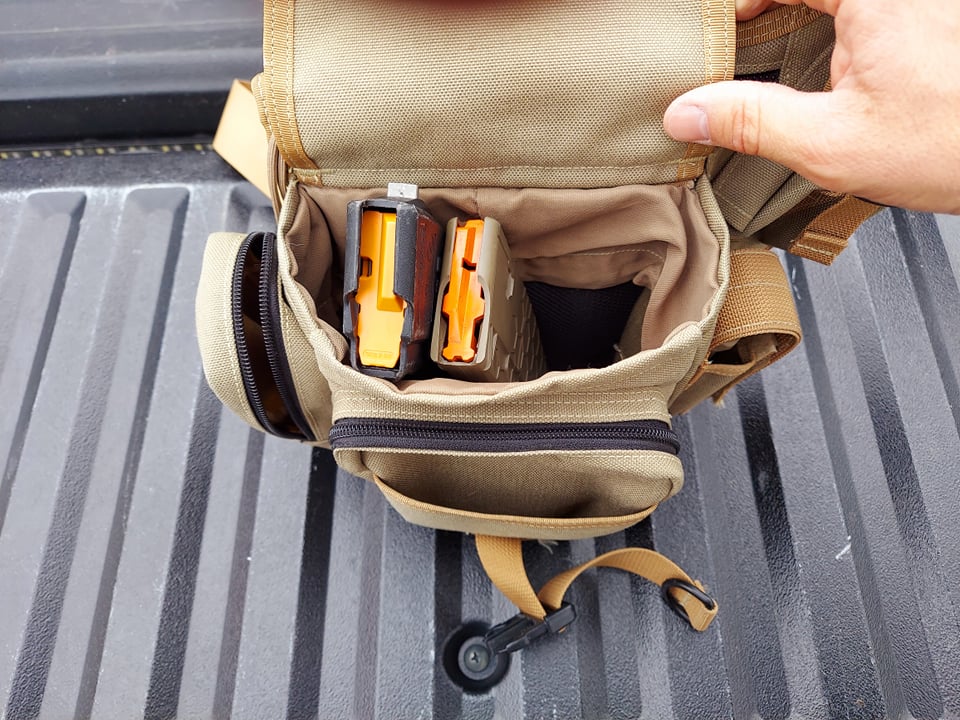 A few rifle mags also fit perfectly. An AK mag is on the left, and on the right is an AR mag.
A small .38 revolver fits easily into the outermost pouch on the very front of the rig. There is plenty of room for a small first aid kit as well.
The front pouch carries a variety of items, including an Airweight revolver.
Honestly, the uses are endless and only limited by the user's mind.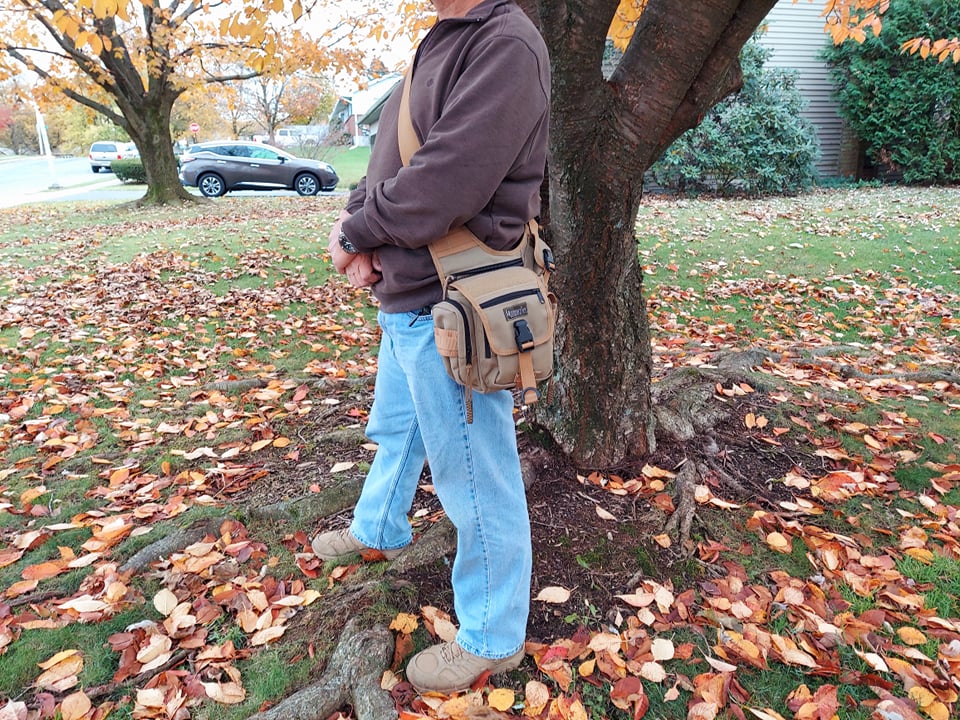 This is a highly rugged, versatile, functional piece of kit that will last for decades to come. Mine has been through a lot and is not showing the slightest signs of giving up.
Not to mention, there's a certain satisfaction in having a bag full of just the right items that you need at a given moment. You know, that preparedness thing.

About the Author:
Jim Davis served in the PA Dept. of Corrections for 16 ½ years as a corrections officer in the State Correctional Institute at Graterford and later at SCI Phoenix. He served on the Corrections Emergency Response Team (CERT), several of those years as a sniper, and also the Fire Emergency Response Team (FERT). For 25 years, he was a professional instructor, teaching topics including Defensive Tactics, Riot Control and Tactical Operations, Immediate Responder, and cognitive programs as an adjunct instructor at the DOC Training Academy. He was then promoted to the title of corrections counselor, where he ran a caseload and facilitated cognitive therapy classes to inmates. His total service time was close to 29 years. He was involved in many violent encounters on duty, including incidents of fatalities.
Recent Posts
Florida-based defense contractor Global Ordnance, LLC and Colorado-based defense company, Mountain H …

Stumped on Christmas Gifts? There's still time to find the perfect present for your special someone! …

If you hear the words "9x18mm" and immediately assume the speaker misspoke and meant 9x19mm Parabel …